Loyalty Rewards Program
Wheaton Honda Loyalty Rewards Program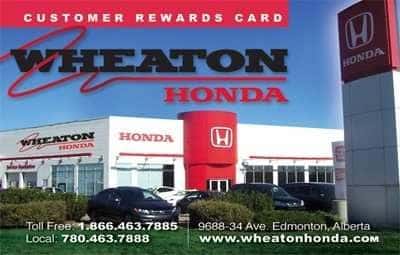 We know you have a choice in where you take your Honda for service, and we appreciate your loyalty to Wheaton Honda. So we would like to reward you by giving you 5% back towards your next service, parts or maybe that really cool genuine Honda accessory that you have had your eyes on.
By bringing your vehicle to us, you potentially earn enough money to make your next service visit free! Or, bank your Reward Dollars towards the purchase of a new or used vehicle.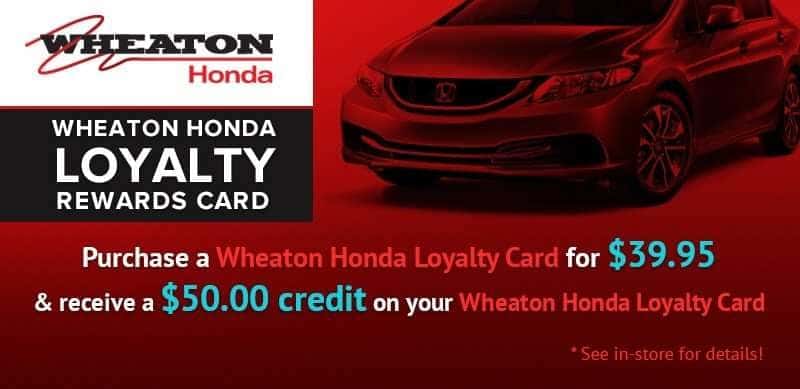 How do I join?
You can visit and ask at your next service.
How do I earn?
Each time you visit us for parts or service, simply provide the associate your card at time of payment. They will enter your Reward Dollars and they will be available for you to use on your next visit. You will also receive a confirmation of the points sent to either your email or your mobile device.
How do I redeem?
At the time of your next visit, simply let our associate know you would like to use some or all of your Reward Dollars. They will swipe your Loyalty Rewards card and your Reward Dollars will be applied to the amount owing. It's really that easy!
Terms & Conditions
5% is earned on regular priced service and parts only. Loyalty Rewards Dollars cannot be earned on a promotional or discounted service. Commercial and Fleet accounts are not eligible for Loyalty Rewards membership. If a Loyalty Rewards card is not active for 14 months, all Loyalty Rewards dollars will expire. Loyalty Rewards Dollars cannot be transferable and cannot be exchanged for cash. Minimum redemption amount is $50.00, and customers cannot redeem Loyalty Rewards Dollars unless they have accumulated at least $50.00.