What does the VSA warning light mean in a Honda?
Back
What does the VSA warning light mean in a Honda?
Posted on June 29, 2015
When you see a dashboard warning light go on in your car, your first reaction is probably concern. Do you need to pull over? Does the vehicle need service? Will it be costly? While those reactions are normal, if you have a good understanding for your Honda and its warning lights, you can avoid some of the anxiety you might normally feel when one of those little symbols illuminates.
Today, we are going to focus on the VSA warning light in a Honda to give you a complete understanding for what it means and how you should react.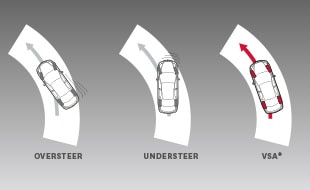 The VSA indicator stands for Vehicle Stability Assist, which is a standard system on most newer Honda models. The Honda Vehicle Stability Assist System with Traction Control helps sense and correct oversteering and understeering to improve cornering capabilities. Likewise, it helps minimize wheel spin in slippery driving conditions. In all, the VSA System on your Honda gives you a little more confidence behind the wheel by improving traction and vehicle stability.
But what does it mean when that VSA warning light illuminates?
If the system activates, likely in slippery driving conditions, you'll see the VSA warning light blink. This is normal, as it indicates the system is working. When you see the light come on, it might be time to lay off the accelerator to regain traction.
If the VSA warning light comes on and stays on while you are driving, there may be an issue with the system. First, find a safe place to pull over to the side of the road and turn off the engine for a short amount of time. Restart the vehicle and see if the VSA indicator once again remains illuminated. If it does, there may be a problem with the system and you should make an appointment with your Honda dealer to have it looked at.
You can continue to drive with the VSA warning light on, as you will have normal braking and cornering abilities, just without the stability enhancements the VSA System provides.
If you have questions about what your warning lights mean, we invite you to call the service department during normal business hours or to stop in and have our technicians run a diagnostics test on your vehicle.